Spent a little time with Maverick. This love will never die! Look at that face.
And...it's COLD. Cooold.
Other things:
I went to see The Big Short (yes, loved, entertaining, fast-paced, informative, eye-opening) and Carol (too much 'lingering gaze over tinkly piano', not compelling, characters who made me go 'why is anyone into either of these ladies they're both terrible'...not my jam)
I enjoyed my first Pittsburgh-style New Year's pork and sauerkraut feast...ohhh MAN. This was delicious delicious stuff. Dan and his girlfriend Kirsten hosted some people on Saturday night and we enjoyed the aforementioned slow-cooked pork, sauerkraut, kielbasa sausages, potatoes, brussels sprouts, butternut squash gratin, peach and goat cheese salad, homemade olive bread, cheese and salami. A plate loaded with kielbasa and sauerkraut washed down with a beer is pretty much heaven and I'm delighted that I have experienced this kind of joy. Om nom nom nom. Also had a lot of fun meeting some of Dan and Kirsten's friends and hanging out with David my roommate and Nate who lives downstairs. And we played Taboo! Which is a fun game about describing things without using a prescribed list of words and your teammates have to guess the thing you're describing. In case you've never played.
This was Saturday night. On Saturday morning I also partook in a fantastic celebratory activity that I recommend to everyone.
It was my dear friend Charles' birthday and the night before, he sent this mysterious message:
Rules of Finding Me at Met
I will post on my Facebook a clue to where I am at the following times.
10:30 am 10:45 am 11:00 am 11:15 am 11:30 am
11:45 am 12:00 pm 12:15 pm 12:30 pm 12:45 pm
I will stay there for 10 minutes, and then move to a new location.
If a person finds me, he/she will join me and pick a random room number, which we will head for immediately. I will post who has joined me, and then a clue when we reach that room.
At 12:45 pm, I will post a room number so we can all gather together. Then, I may ask you to do something for me at the museum.
We were not supposed to tell him if we were participating. Jacob and I conferred the night before and decided to meet at the Met and play Find Charles as a team.
This is such a fun game. The Metropolitan Museum of Art is HUGE. I've been many times now and I've yet to see everything there so this was no small undertaking.
The first clue we were faced with was a picture of a part of the museum - we knew there were sculptures, so we headed for that section. By the time we had worked out where it was and found it, the next clue was up so we'd just missed him. The next clue said 'somewhere in Egypt' - so we speed walked as respectfully as we could through to the Egyptian wing. Which is a lot. And at first we thought Charles might have hidden inside the ruined temple that stands in its own cavernous room. He had not! So we hunted on through the relics and artwork and then -
A sighting! We thought we'd be clever and take a picture of him and upload it to Facebook so that he knew we'd found him but he wouldn't know where we were (because we hid after taking this picture)
Sadly this backfired because he skedaddled and we lost him again
So we waited for a new clue, and ended up with
???
Luckily Jacob brilliantly deduced that this was 'somewhere in Asia' so we headed for the Asian wing. Or would've if we had known where that was - we kept finding where things were on our way to other things and then when we went back to the original things, they had somehow moved.
I should add that we were giggling the entire time this was happening. So much fun. And I saw so much art I've never seen before, purely by accident.
Eventually we found the Asian arts section and lo and behold -
One Birthday Charles!
But not before we tried to be clever one last time and blend in.
And as stated in the original message Charles asked us to do something for him. I stepped up to take on this challenge - he wanted me to sing Happy Birthday to him. Except not to him, to a statue. Which I did, loudly. To the Jewish Woman of Algiers.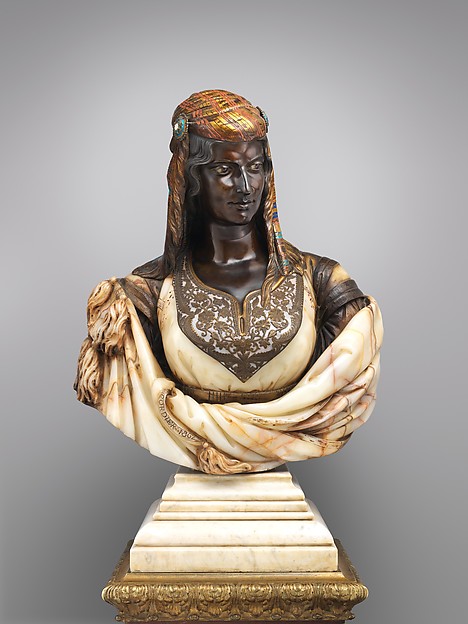 You know. This lady.
This is how everyone should experience museums once in a while. I think we might do a Natural History Museum version at some point.
I've caught a stinking cold somewhere along the way which I'm fighting with a full arsenal of remedies. Rehearsal was pretty rough thanks to my blocked sinuses. But the fridge is still full of sauerkraut which is super good for you and extremely tasty.
Also I just finished deliberately sad-watching Harry Potter and the Deathly Hallows part II. Sob sob...also not bad for clearing out cold related stuff!
Happy Martin Luther King Day.